Charles W. Goddard (1937 - 2023)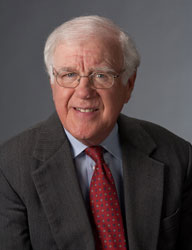 In Memoriam
We commemorate with deep sadness and fond memory our colleague who left us much too soon. His contributions and service to the firm and its clients are part of his enduring legacy. We miss him greatly and continue to be inspired by his talents, judgment and dedication.
Charlie Goddard was an acclaimed insurance defense and personal injury attorney, with over 40 years of practice on the North Shore. Well recognized in the legal community, Charlie had been appointed Chair of the Clients' Security Board and served on the Judicial Nominating Committee. He was also named as a Super Lawyer in 2012 as a litigator. As a litigator and mediator, Charlie offered his clients a unique combination of experience, knowledge, and insight. In addition to his significant litigation practice, Charlie was a Conciliator for the Superior Court Trial Department and was a highly sought after mediator of civil disputes.
Active in the North Shore community, Charlie had served as Chairman of Manchester's Board of Selectmen and Chairman to the Zoning Board of Appeals.